Wednesday, July 29, 2015
Thank you to Deb from
Focused On The Magic
for hosting Disney Wordless Wednesday, the theme she picked today was It's Showtime.
Monday, July 27, 2015
Welcome to Top 10 Tuesday Disney Style! Today our Top 10 list will consist of our Top 10 favorite things in the Magic Kingdom! Please link your post below and visit other posts as well! Happy Tuesday!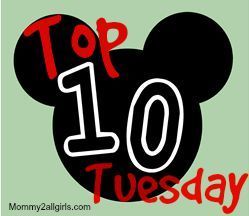 1. Cinderella's Castle- Umm, how can you go to Magic Kingdom and not have Cinderella's castle as a favorite place? It's so beautiful and Magical!
2. Tomorrow Land Transit Authority Peoplemover- we do this ride several times each day we visit Magic Kingdom. I love the overhead perspective of Tomorrowland. It is a family favorite!
3. Pirates of the Caribbean attraction- A day at the Magic Kingdom isn't complete without a ride on Pirates. I love the smell of the attraction and I love the music that plays in Adventureland before you enter the ride.
4. Be Our Guest Restaurant- This restaurant is beautifully themed and is a spectacular place to eat any meal in. This is definitely the best restaurant in the Magic Kingdom.
5. MainStreet U.S.A.- so this is another easy one but when I get on MainStreet and I see the balloons, smell the air, and hear the music playing and see the castle at the end of the street I can't help but cry. It doesn't matter how many times I've been to the Magic Kingdom this gets me every time.
6. Enchanted Tales with Belle- This attraction is so much fun. I love how the audience gets to interact and my children love to hear the story of Beauty & the Beast. This attraction is well themed and has spectacular effects.
7. Tomorrowland Stage- Our family loves music and we love to dance so we are naturally attracted to the dance parties and one of our favorite ones is the one held in Tomorrowland currently with the Incredibles. We can't help but have fun and be goofy and it's especially fun when you get to dance with characters!
8. Big Thunder- This is one of my favorite rides and my girls have grown to love it as well so I had to add it to the list!
9. Buzz Lightyear Space Ranger Spin- Ever since this ride opened it has been a family favorite. Between my brother, sister, nephews, parents etc... we all fight for the highest score. It is always fun to go on this ride even though it could probably use a little TLC just because of the memories it makes for our family.
10. Haunted Mansion- Love this spooky haunted ride! The song is catchy and it's a can't miss ride for me! Plus it has some pretty cool effects.